Price

RM375.00

RM499.00

Product SKU
YVS100
Brand
Yamaha
Size (L x W x H)
460 mm x 90 mm x 55 mm
Availability
In Stock
Shipping Fee
Quantity
Description
Highlight
Material Body: ABS resin
Key: C (Range: C40-C64, 2 octaves)
Body Type: One-piece
Dimensions: L 460mm, W 90mm, H 55mm (with mouthpiece and cap)
Weight: 180g (with mouthpiece and cap)
Color: White
Accesories: Mouthpiece (equivalent to Yamaha 4C mouthpiece for soprano saxophones), Mouthpiece cap, ligature, synthetic (resin) reed, cleaning swab, owner's manual, Let's Play Venova! (Guidebook), Case (with strap)
YVS-100
Use of "branched pipe"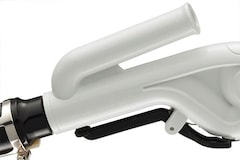 With a "branched pipe" added to the cylindrical bore, the tone of a conical bore instrument (e.g., saxophone) is achieved in compact size.
Meandering pipe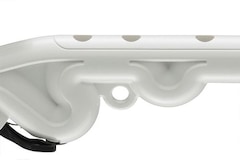 A meandering pipe is used to shrink the distance between tone holes for a simplified structure to minimize the use of keys.
Easy fingering similar to recorders that is easy to play even for those who are new to wind instruments.
Durable, easy-to-handle material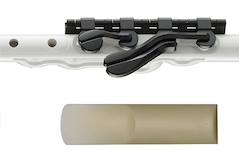 The body made with ABS resin is durable and washable with water.
With a Durable resin reed and synthetic pads (for key parts), cleaning is easy.
Easy to start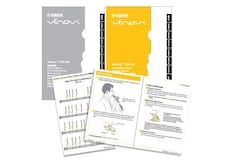 In addition to the owner's manual, the "Let's Play Venova!" guidebook includes tips on posture, sound production, and controlling pitch and tone. It also contains sample songs.Even those who are completely new to wind instruments can have fun while learning.
Case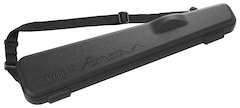 Dimension: L 507mm , W 125mm , H 68mm(with strap)
Weight: 508g (with strap)
Accessories
Top: Cleaning swab
Bottom: Synthetic (resin) reed
What's in the box
Saxophone *1
Mouthpiece *1
Mouthpiece cap *1
Ligature *1
Synthetic (resin) reed *1
Cleaning swab *1
Owner's manual *1
Let's Play Venova! (guidebook) *1
Case (with strap) *1
Reliable Music Store
Explore the biggest music store in Puchong and Klang Valley most reliable music instrument sales.
Friendly Sales and Warranty Support
Experience our friendly staff assisting with your after-sales services.